cover story: SEAFOOD REPORT 2023
The seafood supply chain will experience issues with continuity of supplies from various regions around the world in 2023.
By Fred Wilkinson
chief editor
Coming off two strong sales years, seafood saw dollar and pound declines in 2022. Pounds declined just under 15% and fell below 2019 levels, according to IRI retail sales data. Dollar sales declined a little more than 8% and fell below 2020 levels but remained ahead of their pre-pandemic levels of 2019.
Fresh seafood prices were down in December 2022 compared with the end of 2021. For the year, 2022 seafood prices increased 7.9%, below the rate of inflation for the overall food and beverage category (12.5%). Only frozen seafood prices increased above the total store level of inflation. Shelf-stable seafood prices, including canned products and pouches, had a double-digit increase over year-ago levels in December 2022.
The global seafood market is expected to grow from $236.81 billion in 2021 to $262.81 billion in 2022 at a compound annual growth rate of 11%. The market is expected to reach $387.75 billion in 2026 at a compound annual growth rate of 10.2%.
There continue to be some challenges in the supply chain related to continuity of supply from various regions around the world, said Kim Gorton, president and CEO of Slade Gorton & Co. Inc., an importer and distributor of fresh and frozen retail and foodservice seafood products sold across North America.
She said recent supply-side constraints are more related to quota changes and geopolitical forces.
The seafood supply chain represents the most complex food system on the planet, Gorton said, and given that 80% to 85% of consumer demand for seafood in the U.S. is filled with imported product, much of which has months-long order lead times and various seasonality, supply cannot be adjusted quickly as demand fluctuates.
The seafood marketplace continues to see innovation in adding value to products, including portioning rather than using fillets or whole fish.
"Pricing in many categories softened in the second half of 2022 as ocean freight rates declined, supply was more plentiful and demand began to stabilize," Gorton said. "The biggest issue facing us today is the lack of available storage capacity across the country. As with many industries, warehouses are at and beyond capacity across the nation, creating backup of product at ports and resulting in significant cost increases related to paying demurrage fees and detention fees, as well as increased transportation costs, as we wait for product to be received by our third-party warehouse partners."
Gorton said the supply chain "spigot" really opened up in late 2021 as companies were buying in to help meet demand as consumers began dining out and traveling again. The impact of inflation and the eventual economic slowdown that started at the end of Q1 in 2022 saw seafood demand begin to slow and inventories begin to build heading into the second half of 2022.
"We expect the storage capacity constraints to continue throughout much of the year,," said Gorton, who currently serves as the chair of the board of directors of the National Fisheries Institute.
Adding to the supply chain pressure for 2023 is the closure of Alaska's snow crab harvest season for 2023.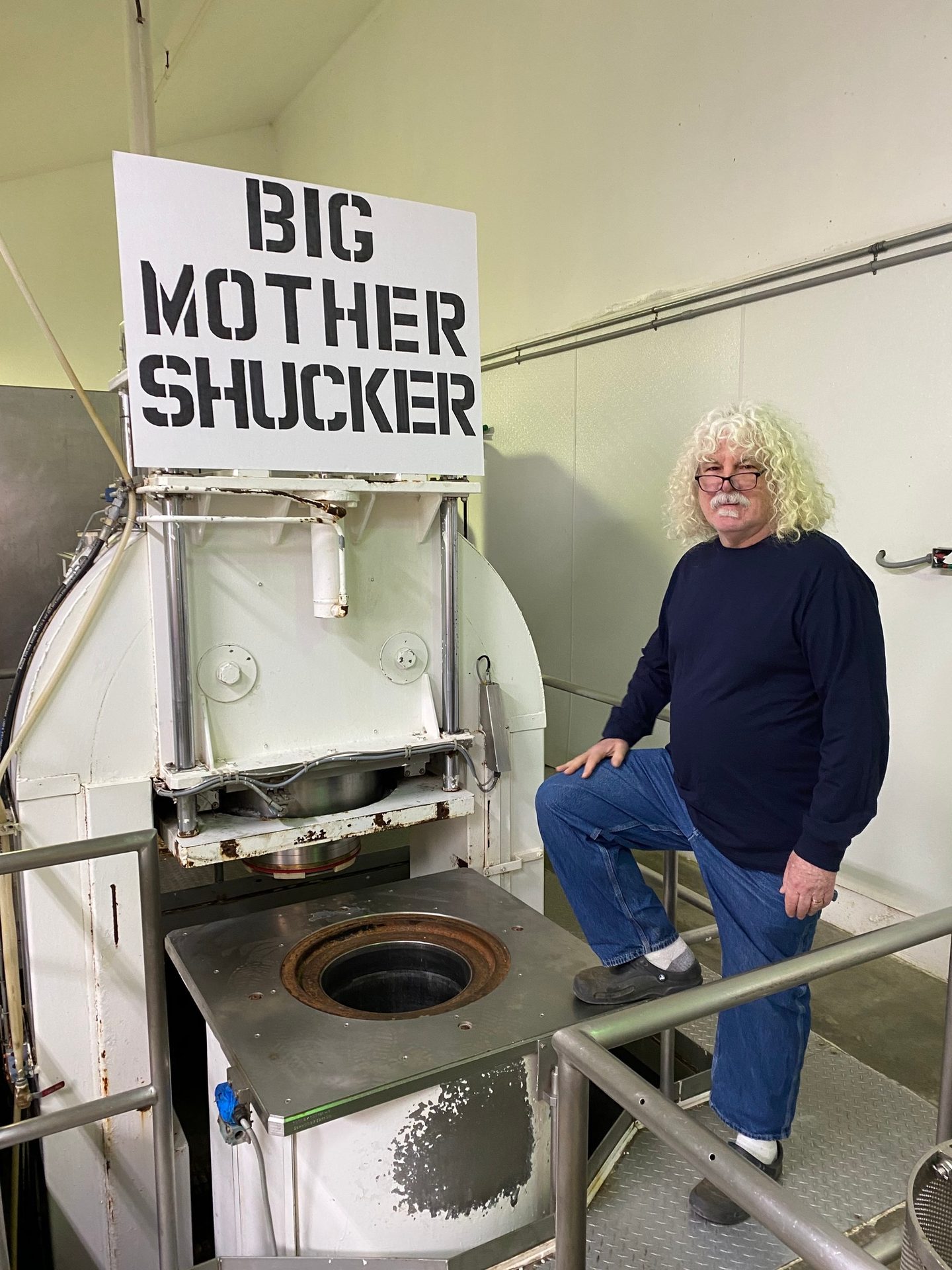 John Hathaway, president of Shucks Maine Lobster, credits HPP with improving the shelf life and quality of his company's value-added lobster products. (Photo courtesy Shucks Maine Lobster)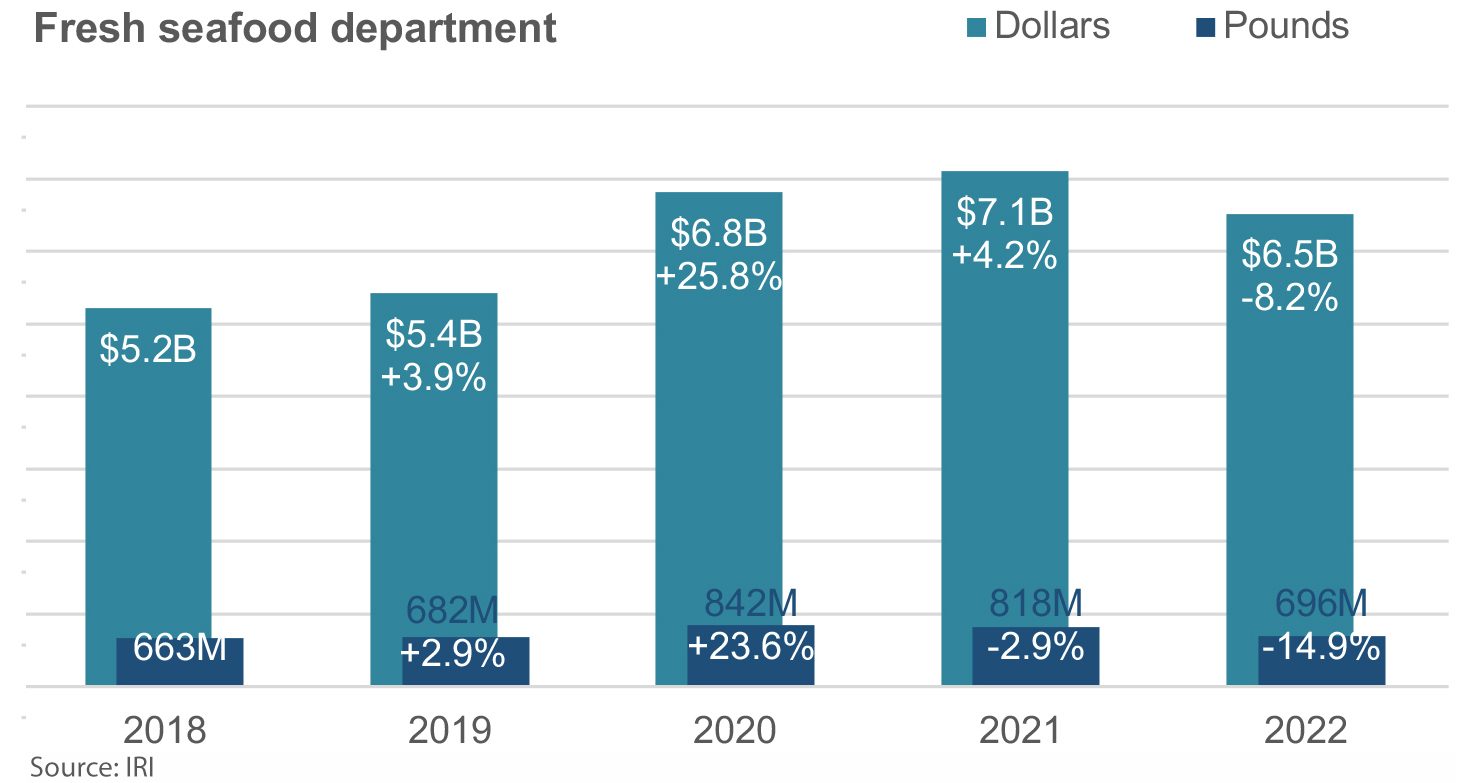 "This unprecedented event has had a devastating effect on the fisherman and processors for these products," Gorton said. "Combined with the lack of product available now that had formerly come from Russian fisheries, supply has all but disappeared with some product still coming from South American fisheries. We expect consumers and operators will turn to alternative shellfish products, particularly lobster and shrimp."
Megan Rider, domestic marketing director for the Alaska Seafood Marketing Institute, said the Alaska snow crab season closure is an example of Alaska's commitment to sustainability and fisheries management.
"The industry is as committed to ensuring the health and sustainability of our fishing communities as much as the fisheries themselves," she said. "Like any ecosystem, it's a delicate balance, and reactions across the industry are understandably mixed."
Rider said fishermen, processors and distributors try to diversify their products to include various species to help minimize the effect of unavoidable supply chain issues.
"Because Alaska is home to such a wide range of seafood — including five species of salmon, eight species of whitefish including wild Alaska pollock, cod, halibut, sablefish, rockfish, sole/flounder, various shellfish and more — and different species respond differently to different types of environmental pressures, a low harvest for one species is often balanced by a large haul of another," she said.
Dan Obradovich, processing sales manager for Pacific Seafood, said the absence of snow crab from Alaska — along with product from Russia because of the trade embargo stemming from the Ukraine situation – means there's a significant amount of crab that's not going to be coming into the market in 2023.
"Dungeness crab is one of the cornerstones of our business," he said. "So we have an alternative to snow crab."

Value-added trends
Adding value is about more than just the end consumer's eating experience. Such products increasingly are designed to add value for foodservice operators to help address their labor and supply chain issues. The seafood marketplace continues to see innovation in adding value to products, including portioning rather than using fillets or whole fish.
"As back of the house restaurant operations continue to struggle with access to labor and high food costs, purchasing more precut or pre-portioned seafood is a growing trend," Gorton said. "Precut/pre-portioned seafood helps operators in a number of different ways, including reduced handling and prep, less food waste, as well as more consistent plate coverage and cooking times."
She said the tradeoff is that portions are, on the whole, more expensive than buying fish that needs to be butchered or portioned in the kitchen (such as shrimp).
"Operators are advised to compare food costs based on factoring in prep time and handling, food waste and guest satisfaction related to consistent experiences when determining which is best," she said. "We see continued innovation with ready-to-cook and ready-to-eat seafood offerings. Having expanded broadly in retail over the past decade, value-added seafood products offer operators convenience and consistency, helping to offset challenges with back-of-house labor. Well beyond breaded seafood portions, or 'square fish,' we see marinated, spiced and stuffed products becoming more popular in certain foodservice segments, particularly in hospitality and higher education."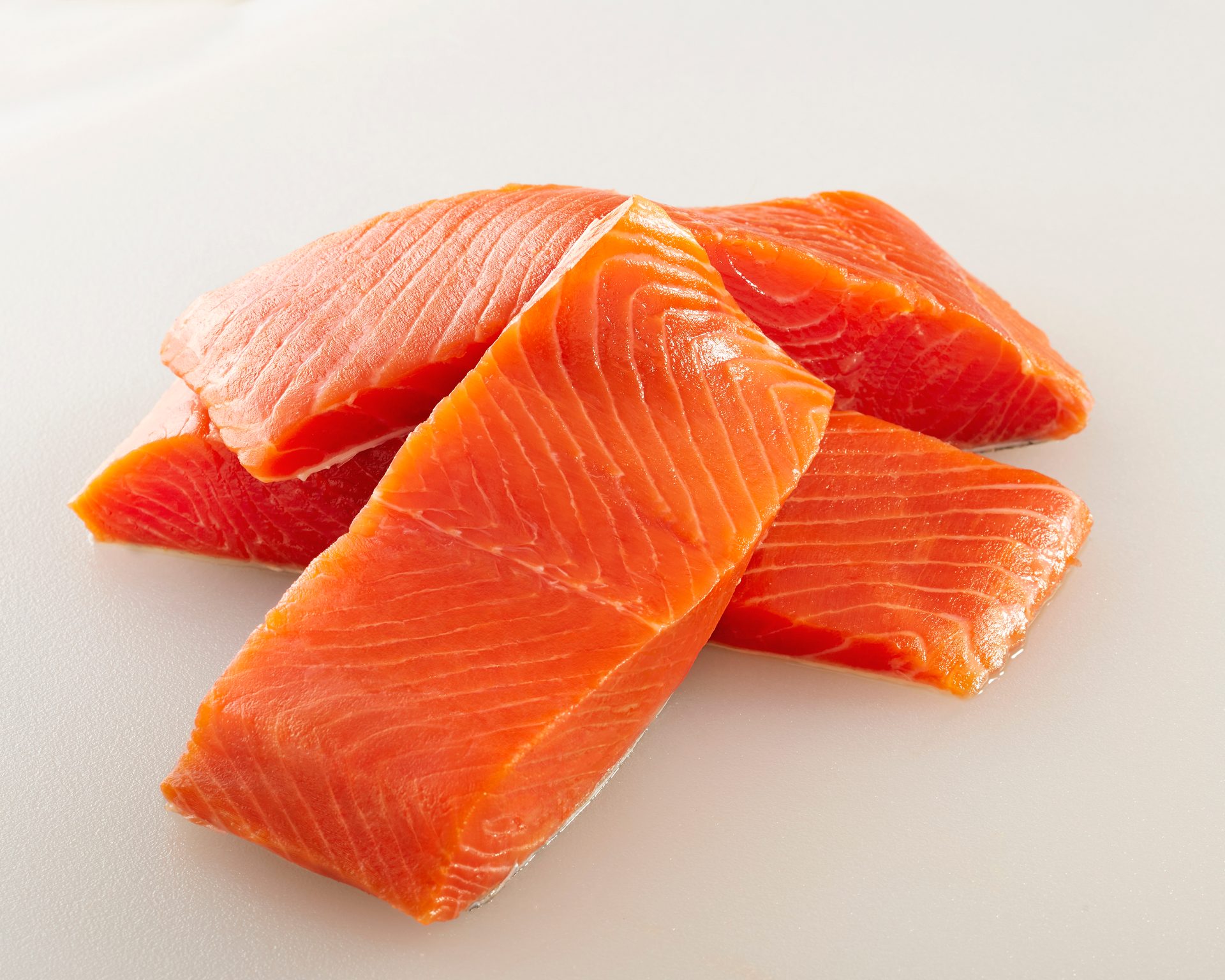 According to IRI retail sales data, in December 2022 salmon had an average price per pound of $10.63, an increase of 11.1% from the prior year. (Photo courtesy Alaskan Seafood Marketing Institute)
Gorton said that among the items Slade Gorton is showcasing this year are various value-added sushi- and sashimi-ready products, particularly in the salmon category, as well as precut and pre-portioned poke cubes, and ready-to-plate salmon carpaccio.
Rider said that with inflation affecting most foods across the country, value-added seafood products have a big opportunity to attract customers who aren't as confident in their home cooking skills or who seek restaurant quality seafood at a lower price.
"There was a huge increase in home seafood consumption in the early years of the pandemic, but even for those consumers who became more comfortable cooking seafood, value-added options can still relieve cooking fatigue and provide inspiration to experiment with new flavors and branch out into new species," Rider said.
Rider said trends Alaska suppliers are seeing include pre-marinated and seasoned seafood options aligned with trending flavors, as well as a focus on species with abundant availability, such as Alaska sockeye salmon, sablefish (also known as black cod), various Alaska whitefish species and surimi (made from wild Alaska pollock). Value-added options that can stretch seafood with other ingredients, for example crab or salmon cakes, are also increasing in the marketplace in order to balance cost increases.
2022 was the year of tinned seafood, Rider said, with everything from small fish like mackerel to elevated versions of canned Alaska salmon rising in popularity.
"In the coming year we expect to see proliferation of this trend, with products moving from specialty stores and markets to everyday retailers and consumers choosing salmon as an alternative for canned tuna," she said.
Recent advances in packaging, particularly vacuum seal skin packing, continue to help producers maintain freshness, flavor and appearance of seafood, Rider said.
Millennials and younger consumers offer opportunities for products that offer taste and convenience but also feed their creative impulses in the kitchen, said John Hathaway, president of Shucks Maine Lobster, a producer of value-added "MSC Certified Sustainable" Maine lobster products.
'Their interest is a little bit different in that they're really into prepared meals," he said, "They want to have things delivered to them where they can be a little bit creative."

Flavor trends
Foodservice consumers are craving more seafood options than beef, chicken or plant-based protein, according to recent research from Datassential.
"Both seafood bowls and tacos have seen growing menu penetration in recent years," Rider said. "Fried continues to be the most common prep method for seafood at both limited- and full-service restaurants, followed by grilled."
Foodservice flavor trends influencing seafood products over the past couple of years include fermented flavors.
"Things like gochujang, fish sauce, kombucha, kimchi and yogurt are all on the rise," Gorton said. "Trendier restaurants are going away from heavy sides for entrees like mashed potatoes and moving towards lighter more complex flavors. Citrus will always be a flavor trend that follows seafood of all kinds. Recently people are discovering some not as popular citrus flavors that work really well with fish such as yuzu, grapefruit, kaffir lime sudachi, and calamansi."
According to Datassential, Asian flavors will lead the way for foodservice trends for the coming year, with sweet soy, togarashi, spicy mayo and sweet chili sauce topping the list of seafood flavors and sauces.
"We're also seeing growing consumer interest in global flavor fusion and complex flavors, so dishes like Korean BBQ Alaska salmon tacos — which are influenced by different cultures -- or sweet/spicy, sour/umami flavor mash-ups, all work really well with seafood," Rider said.
Gorton said something that is not necessarily "new" but has had a large increase in popularity recently is dry aging fish.
"It's a much more common technique using beef, but many chefs with a passion for seafood are utilizing it as it has many benefits," Gorton said. "Dry aging as a process adds shelf life to the fish, a more concentrated flavor and the ability to get the fish's skin (which as we know has many health benefits) much crispier. It extracts excess water out of the muscle and skin and natural enzymes start to break down to structure of the flesh resulting in a more tender bite."
Gorton noted seafood consumption is also trending for Millennial and Gen Z consumers who seek out healthy, low calorie, high protein foods along with transparency on food labels, traceability and sustainable protein options.

www.provisoneronline.com   |   february 2023